caribmart.com is officially closed!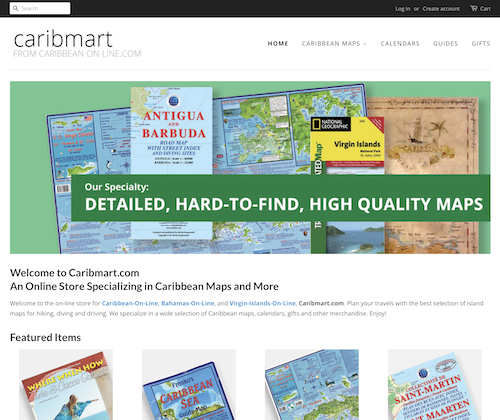 We started by selling a single guide book, and shipping free promotional maps for a nominal fee way back in 1995. After almost 30 years we have decided to close the shop. Book selling online is kind of difficult to profit from (thanks to Amazon - see below), and now there are digital maps in everyone's pocket (mobile phones), so it was time. If you are a former customer please know it was a pleasure serving you!

We do have a fairly extensive bit of stock left, so if you are looking for a map of a Caribbean island please feel free to drop us a line - we'll post an inventory list here soon. Or, you can find Caribbean Maps at Amazon.

Likewise, if you are interested in the domain name (or any of the domains below, or have any business development or partnership ideas) please get in touch - we're open to ideas!
---
Our Caribbean websites:
We still maintain several Caribbean websites and we do plan to update and upgrade these on and ongoing basis.
We also have several sites that focus on Italian travel and culture:
Popular products we used to sell available via Amazon.com: